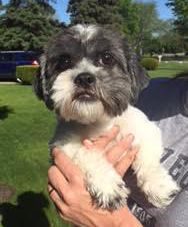 ​Cookie Sue is an approximately one year old female Shih Tzu. She is an active little girl and loves to play with the dogs in her foster home, So much so that her forever home needs a playful dog companion. If permitted to get bored, she can get mischievous. But when kept busy, she is a wonderful dog to both dogs and humans. Cookie Sue cannot attend every adoption event due to her foster mom's schedule, so if you would like to meet her, please complete an online application and a meeting can be arranged.
Special Notes:
Breed:
Shih Tzu
Sex:
Female
Estimated Birth Date:
05/18/2015
Weight:
12 pounds
Status:
Available
Add Date:
05/18/2016
Last Updated:
08/18/2016
Adopt Date:
08/20/2016
PPI#:
060116.1r
Tag #:
####
Foster Name:
Mona G.
Adoption Fee:
$175
Likes Cats:
Unknown
Likes Dogs:
Yes
House trained:
Yes, but no more than 6 hrs.
Needs a pal:
YES!
Likes kids under 5:
Unknown
Likes over 5:
Unknown
Kenneled:
No
Walks on a leash
Yes
Shares Toys With Humans:
Yes
Shares Toys With Other Animals:
Yes
Eats Nicely With Humans:
Unknown
Eats Nicely With Other Animals:
Unknown
Knows Basic Commands:
Unknown
Fence Needed:
Preferred
Fence Jumper:
Not over 6', but can jump baby gates
Crate Trained:
No
Energy Level (1-5):
4
Rides nicely in car:
Yes, in carrier