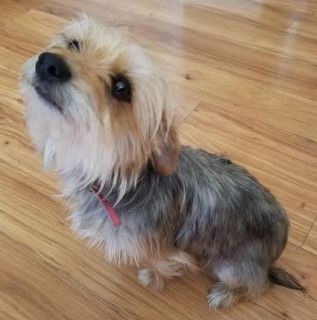 Hi, I'm Sadie Mae, and I'm a five-year-old Yorkie mix. I am a very sweet girl. I love to play with other small dogs and I love cuddling with my foster mom's little boy. I am a bit shy at first (more so with men), but I warm up pretty quickly. I'm very good at listening and I always stick close by my foster mom. I'd love a forever family that would take me on car rides, play in the yard and let me cuddle up with them in the evening. If you are interested in meeting or adopting Sadie Mae, please complete an online application.
Special Notes:
Breed:
Yorkshire Terrier mix
Sex:
Female
Estimated Birth Date:
05/18/2011
Weight:
pounds
Status:
Available
Add Date:
05/18/2016
Last Updated:
08/09/2016
Adopt Date:
08/20/2016
PPI#:
052616.4
Tag #:
3459
Foster Name:
Jessica R.
Adoption Fee:
$175
Likes Cats:
Yes
Likes Dogs:
Yes
House trained:
Mostly; a few accidents at first but doing much better!
Needs a pal:
No
Likes kids under 5:
Yes
Likes over 5:
Yes
Kenneled:
No
Walks on a leash
Yes
Shares Toys With Humans:
Yes
Shares Toys With Other Animals:
Yes
Eats Nicely With Humans:
Yes
Eats Nicely With Other Animals:
Yes, but can be a little possessive at times
Knows Basic Commands:
Unknown
Fence Needed:
Unknown
Fence Jumper:
No
Crate Trained:
Unknown
Energy Level (1-5):
Rides nicely in car:
Unknown