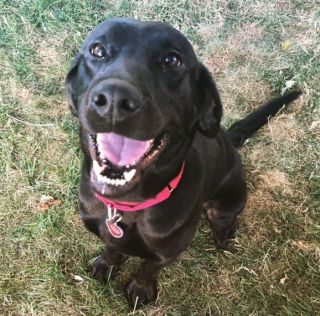 Corona is a super soft and very sweet one-year-old female Black Lab new to our program. She loves to play fetch, cuddle, and be with her humans. She needs some training but is super food motivated and willing to please. Although she can be energetic, Corona can also be a couch potato and relax with you. She is such a doll! She is going to make someone a super great dog! If you are interested in meeting or adopting Corona, please complete an online application.
Special Notes:
Breed:
Black Labrador Retriever
Sex:
Female
Estimated Birth Date:
06/06/2015
Weight:
pounds
Status:
Available
Add Date:
06/06/2016
Last Updated:
06/22/2016
Adopt Date:
06/25/2016
PPI#:
060616.1
Tag #:
####
Foster Name:
Lindsay A.
Adoption Fee:
$150
Likes Cats:
Interested, but only chases
Likes Dogs:
Yes
House trained:
Yes
Needs a pal:
No
Likes kids under 5:
Unknown
Likes over 5:
Yes
Kenneled:
Yes
Walks on a leash
Learning
Shares Toys With Humans:
Yes
Shares Toys With Other Animals:
Yes
Eats Nicely With Humans:
Yes
Eats Nicely With Other Animals:
Yes
Knows Basic Commands:
Learning
Fence Needed:
Preferred
Fence Jumper:
No
Crate Trained:
Yes
Energy Level (1-5):
3-4
Rides nicely in car:
Yes