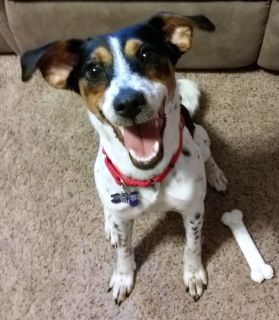 Daisy is a young female Rat Terrier mix new to our program. Daisy is a smart little doll who is a total sweetheart. She LOVES attention and snuggling. She is the perfect couch buddy. She is so happy to sit next to you and give occasional nudges requesting to be petted. She has learned the routine of the house well. She comes wonderfully to her name, waits until told ok to eat and goes into her crate like a champ. She spends the day while we are at work and sleeps at night in her crate. She is practically a perfect little dog. If you are interested in meeting or adopting Daisy, please complete an online application.
Special Notes:
Breed:
Rat Terrier mix
Sex:
Female
Estimated Birth Date:
10/15/2015
Weight:
20 pounds
Status:
Available
Add Date:
06/15/2016
Last Updated:
07/03/2016
Adopt Date:
08/13/2016
PPI#:
061516.1
Tag #:
3032
Foster Name:
Ann S.
Adoption Fee:
$175
Likes Cats:
Unknown
Likes Dogs:
Yes
House trained:
Yes
Needs a pal:
No, but would love to have one!
Likes kids under 5:
Unknown
Likes over 5:
Unknown
Kenneled:
Yes, during work hours and at night
Walks on a leash
Learning
Shares Toys With Humans:
Yes
Shares Toys With Other Animals:
Yes
Eats Nicely With Humans:
Yes
Eats Nicely With Other Animals:
Yes
Knows Basic Commands:
Yes
Fence Needed:
Preferred
Fence Jumper:
No
Crate Trained:
Yes
Energy Level (1-5):
2-3
Rides nicely in car:
Yes