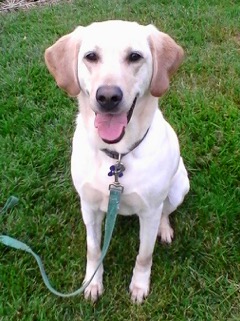 Cash is a two-year-old female Yellow Lab. She is a sweet girl and oh so soft! She is well behaved and a quiet dog. She knows "sit", "down", and "stay". She is getting better every day at "drop it" and "leave it". She pays close attention and wants to please. Cash loves her ball and will drop it at your feet to play her favorite game—fetch. She follows closely and walks well on a leash. Cash is gentle and lovable. She doesn't do anything wrong. No trash can interest, counter surfing, chewing, barking, or getting on furniture. She is also completely house trained. If you are interested in meeting or adopting Cash, please complete an online application.
Special Notes:
Breed:
Yellow Labrador Retriever
Sex:
Female
Estimated Birth Date:
06/09/2014
Weight:
67.8 pounds
Status:
Available
Add Date:
06/10/2016
Last Updated:
06/22/2016
Adopt Date:
07/01/2016
PPI#:
061016.1
Tag #:
####
Foster Name:
Beth S.
Adoption Fee:
$150
Likes Cats:
Unknown
Likes Dogs:
Yes
House trained:
Yes
Needs a pal:
No
Likes kids under 5:
Yes
Likes over 5:
Yes
Kenneled:
Yes
Walks on a leash
Yes
Shares Toys With Humans:
Yes
Shares Toys With Other Animals:
No
Eats Nicely With Humans:
Yes
Eats Nicely With Other Animals:
Yes
Knows Basic Commands:
Learning
Fence Needed:
No
Fence Jumper:
No
Crate Trained:
Yes
Energy Level (1-5):
3
Rides nicely in car:
Yes