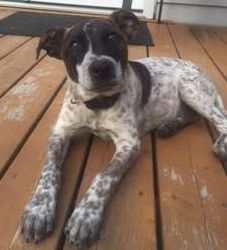 Hi! My name is Willie and I am a really goofy Australian cattle dog mix puppy! I love to play and run in the yard and then take a nap in the house. I'm working on going potty outside, and am getting the hang of it pretty quickly. I REALLY REALLY like kids too! I'll run around and play with the older ones, and younger ones I let pet me without being too hyper. As long as my future family corrects me when I do something wrong as a pup, I'll make a great dog. PS: I know the word 'no'. I would also love to go on walks through the neighborhood or at the park with you once I have all of my puppy shots. I know not to get on the furniture at my foster family's house, so I curl up on the bed they give me in the living room. At night I sleep in a crate and go right to sleep and am really quiet until morning. My foster family thinks that I am out of my teething stage, because while I love to chew toys I don't try and chew humans! If you are interested in meeting or adopting me, please come visit me at one of the events or fill out an online application!
Special Notes:
Breed:
Aussie Cattle Dog mix
Sex:
Male
Estimated Birth Date:
03/12/2016
Weight:
21 pounds
Status:
Available
Add Date:
06/16/2016
Last Updated:
06/25/2016
Adopt Date:
07/12/2016
PPI#:
062116.2
Tag #:
####
Foster Name:
Laura C.
Adoption Fee:
$200
Likes Cats:
Unknown
Likes Dogs:
Yes
House trained:
Working on it
Needs a pal:
No
Likes kids under 5:
Yes
Likes over 5:
Yes
Kenneled:
While we are at work and at night
Walks on a leash
Yes
Shares Toys With Humans:
Yes
Shares Toys With Other Animals:
Yes
Eats Nicely With Humans:
Yes
Eats Nicely With Other Animals:
Yes
Knows Basic Commands:
Working on sit
Fence Needed:
Yes
Fence Jumper:
No
Crate Trained:
Yes
Energy Level (1-5):
3
Rides nicely in car:
Yes