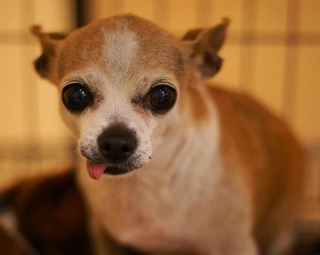 Hi, I'm Pepita, but my foster family calls me "Pippi." I am a 10-year-old Chihuahua who loves to snuggle. I don't really consider myself to be very active, but I do love it when my foster family comes home to me, I get really happy and run around in circles around them! I really enjoy taking naps on your lap or even laying in the sun light. I get along with the other dogs in the house, even though they're all bigger then me, I only weigh 5 lbs! But I think I would prefer to be the only dog, just because I sure do like to get spoiled! At night, I snuggle on the pillow next to my foster mom. I consider myself to be house broken, but I do sometimes have accidents in the house, but not many! If you are interested in meeting or adopting Pepita, please complete an online application
Special Notes: Pepita has a special adoption fee of $75.
Breed:
Chihuahua
Sex:
Female
Estimated Birth Date:
07/03/2006
Weight:
5 pounds
Status:
Available
Add Date:
07/03/2016
Last Updated:
10/27/2016
Adopt Date:
11/05/2016
PPI#:
070816.1
Tag #:
3096
Foster Name:
Amy L.
Adoption Fee:
$75
Likes Cats:
Unknown
Likes Dogs:
Yes
House trained:
Yes
Needs a pal:
No
Likes kids under 5:
Yes
Likes over 5:
Yes
Kenneled:
No
Walks on a leash
Unknown
Shares Toys With Humans:
Doesn't play with toys
Shares Toys With Other Animals:
Doesn't play with toys
Eats Nicely With Humans:
Yes
Eats Nicely With Other Animals:
Yes
Knows Basic Commands:
Yes
Fence Needed:
No
Fence Jumper:
No
Crate Trained:
Unknown, not necessary
Energy Level (1-5):
1
Rides nicely in car:
Yes