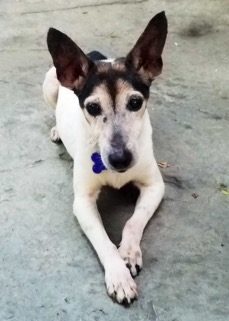 Hi everyone, this is Bambi, a 13-year-old Rat Terrier found as a stray. Bambi is a very, very sweet little lady that wants nothing more than someone to love her and give her a forever home. It breaks my heart when I see older dogs as unwanted strays. She is nothing but perfect in every way and would make someone looking for a quiet, low maintenance dog a perfect companion. If you are interested in this sweet little angel, please fill out our online application.
Special Notes: Bambi has a special adoption fee of $75.
Breed:
Rat Terrier mix
Sex:
Female
Estimated Birth Date:
07/08/2003
Weight:
11.3 pounds
Status:
Available
Add Date:
07/08/2016
Last Updated:
11/17/2016
Adopt Date:
11/17/2017
PPI#:
070816.2
Tag #:
3090
Foster Name:
Bill C.
Adoption Fee:
$75
Likes Cats:
Unknown
Likes Dogs:
Yes
House trained:
Yes
Needs a pal:
No
Likes kids under 5:
Unknown
Likes over 5:
Unknown
Kenneled:
No, not needed
Walks on a leash
Yes
Shares Toys With Humans:
Yes
Shares Toys With Other Animals:
Yes
Eats Nicely With Humans:
Yes
Eats Nicely With Other Animals:
Yes
Knows Basic Commands:
Yes
Fence Needed:
Yes
Fence Jumper:
No
Crate Trained:
Not necessary
Energy Level (1-5):
2
Rides nicely in car:
Yes