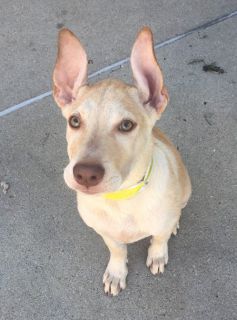 Capone is a 3-month-old Lab mix who is ready for a home of his own. He's a very friendly dog and loves all people, and loves to play with all dogs he meets. Capone knows his name and even knows how to sit when you tell him, and he doesn't cry in his crate. Capone is one of the best fosters we have ever had and will benefit from continued training, socialization and walks. We are thinking that he is going to be a swimmer too as he likes to dunk himself in our baby pool. If you're interested in adopting Capone fill out an online application, or come meet him in person at one of the adoption events.
Special Notes:
Breed:
Lab mix
Sex:
Male
Estimated Birth Date:
05/23/2016
Weight:
pounds
Status:
Available
Add Date:
08/23/2016
Last Updated:
09/02/2016
Adopt Date:
09/03/2016
PPI#:
082316.1
Tag #:
####
Foster Name:
Laura C.
Adoption Fee:
$200
Likes Cats:
Unknown
Likes Dogs:
Yes
House trained:
Working on it
Needs a pal:
No
Likes kids under 5:
Unknown
Likes over 5:
Yes
Kenneled:
No
Walks on a leash
Yes
Shares Toys With Humans:
Yes
Shares Toys With Other Animals:
Yes
Eats Nicely With Humans:
Yes
Eats Nicely With Other Animals:
Yes
Knows Basic Commands:
Knows "sit" and "come"
Fence Needed:
Probably not
Fence Jumper:
No
Crate Trained:
Yes
Energy Level (1-5):
4
Rides nicely in car:
Yes