Prince Charming - ADOPTED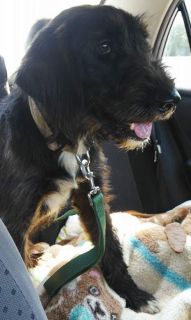 Prince Charming is a young male Black Lab/Schnauzer mix new to our program. He's a very sweet boy, but he can be very shy and timid of new things. His first 11 months were spent outside, so he needs a forever home willing to teach him the ropes and help him learn that the world isn't a bad place. If you are interested in meeting or adopting Prince Charming, please complete an online application.
Special Notes:
Breed:
Black Lab/Schnauzer mix
Sex:
Male
Estimated Birth Date:
10/05/2015
Weight:
39.5 pounds
Status:
Available
Add Date:
09/09/2016
Last Updated:
09/09/2016
Adopt Date:
09/17/2016
PPI#:
090916.1
Tag #:
####
Foster Name:
Jessica R.
Adoption Fee:
$150
Likes Cats:
Doesn't mind them
Likes Dogs:
Yes, would benefit from a doggy friend to help him
House trained:
No
Needs a pal:
Yes
Likes kids under 5:
Yes
Likes over 5:
Yes
Kenneled:
Yes
Walks on a leash
No
Shares Toys With Humans:
Yes
Shares Toys With Other Animals:
Yes
Eats Nicely With Humans:
Yes
Eats Nicely With Other Animals:
Unknown
Knows Basic Commands:
No
Fence Needed:
Preferred
Fence Jumper:
No
Crate Trained:
Yes
Energy Level (1-5):
3-4
Rides nicely in car:
Yes