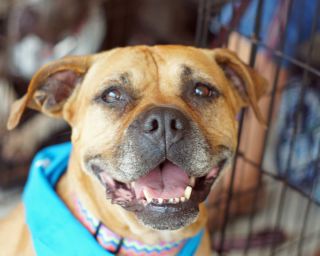 Queenie is a mellow, sweet girl looking for her forever home. She's about six years old and is a Boxer/Pittie mix. She is very happy following you around and loves when you sit down so she can be right next to you. She is friendly and respectful of the dogs in her foster home, but humans are her favorite! Queenie should not be in a home with small animals. If you are interested in learning more about this regal gal, fill out the online app and her foster mom will be in touch.
Special Notes:
Breed:
Boxer/Pit Bull Terrier mix
Sex:
Female
Estimated Birth Date:
09/08/2010
Weight:
65 pounds
Status:
Available
Add Date:
09/08/2016
Last Updated:
09/19/2016
Adopt Date:
10/08/2016
PPI#:
090816.2
Tag #:
3324
Foster Name:
Barb G.
Adoption Fee:
$150
Likes Cats:
NO
Likes Dogs:
Yes
House trained:
Yes
Needs a pal:
No
Likes kids under 5:
Unknown
Likes over 5:
Unknown
Kenneled:
Yes
Walks on a leash
Yes
Shares Toys With Humans:
Unknown
Shares Toys With Other Animals:
Unknown
Eats Nicely With Humans:
Yes
Eats Nicely With Other Animals:
Yes
Knows Basic Commands:
Yes
Fence Needed:
Yes
Fence Jumper:
No
Crate Trained:
Yes
Energy Level (1-5):
2-3
Rides nicely in car:
Yes