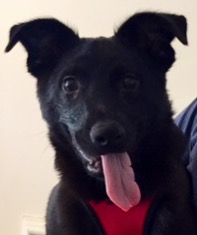 Finnegan is a happy puppy who had a rough start in life. At just 4 weeks old, he was found on the street with a broken jaw. Emergency surgery saved his life and he recovered in a foster home. During the surgery, part of his jaw was removed due to gangrene. We do not know if he will need surgery at some point later in life, but it is a possibility that further repair could be required. Finnegan eats a soft diet of moistened dog food in order to help his jaw continue to heal. His tongue hangs out permanently, but it is pretty cute, isn't it? Despite his past issues, he is the happiest little guy. He loves his people and he loves to play with other dogs. He is crate trained and is still working on house training. He is now looking for a forever home that will give him the love and guidance he needs to be the best boy possible. If you are interested in meeting or adopting Finnegan, please fill out our online application.
Special Notes: To read the article on Finnegan's story, follow this link:
http://www.toledoblade.com/local/2016/03/25/Puppy-found-on-St-Patrick-s-Day-lucky.html
Breed:
Chow Chow mix
Sex:
Male
Estimated Birth Date:
02/16/2016
Weight:
27.8 pounds
Status:
Available
Add Date:
03/21/2016
Last Updated:
10/23/2016
Adopt Date:
10/29/2016
PPI#:
051816.6
Tag #:
2870
Foster Name:
Theresa
Adoption Fee:
$175
Likes Cats:
Not really
Likes Dogs:
Yes, he loves dogs!
House trained:
Somewhat
Needs a pal:
Preferred
Likes kids under 5:
Yes
Likes over 5:
Yes
Kenneled:
Yes
Walks on a leash
Yes
Shares Toys With Humans:
Yes
Shares Toys With Other Animals:
Yes
Eats Nicely With Humans:
Yes
Eats Nicely With Other Animals:
Yes
Knows Basic Commands:
No
Fence Needed:
Yes
Fence Jumper:
No
Crate Trained:
Yes
Energy Level (1-5):
4
Rides nicely in car:
Yes, in a crate