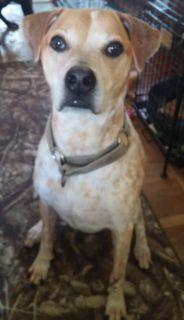 Rosie has such a tragically sad story. She was actually minutes away from being snatched away and destroyed before being rescued by PPI. Rosie's owner loved her with all her heart, but she was placed in a nursing home by her family and could no longer care for Rosie. And the family's solution for the dog was euthanasia. Rosie is a sweet, gentle, 7 year old mixed breed dog. She can be a bit timid in new situations but warms up quickly. She absolutely loves other dogs and ignores the cats. She is very affectionate and adores pets and snuggles. She walks with her current pack every day and plays with the other dogs, sometimes play even breaks out in the house. Rose developed a hot spot on her leg due to anxiety. Now that she is happy and stable again, we have it under control. But a move to her forever home may trigger the same anxious behavior until she's settled and trusting her new humans and surroundings. Miss Rosalita so, so, so deserves a happy, stress free home once again and forever. If you are interested in meeting or adopting Rosie, please complete an online application.
Special Notes: Rosie has a special adoption fee of $75.
Breed:
Terrier mix
Sex:
Female
Estimated Birth Date:
09/24/2007
Weight:
60 pounds
Status:
Available
Add Date:
09/24/2016
Last Updated:
11/08/2016
Adopt Date:
11/19/2016
PPI#:
092416.1
Tag #:
####
Foster Name:
Judy S.
Adoption Fee:
$75
Likes Cats:
Yes
Likes Dogs:
Yes
House trained:
Yes
Needs a pal:
Recommended
Likes kids under 5:
Unknown
Likes over 5:
Yes
Kenneled:
No
Walks on a leash
Yes
Shares Toys With Humans:
Yes
Shares Toys With Other Animals:
Yes
Eats Nicely With Humans:
Yes
Eats Nicely With Other Animals:
Yes
Knows Basic Commands:
Yes
Fence Needed:
Required
Fence Jumper:
No
Crate Trained:
Yes
Energy Level (1-5):
3
Rides nicely in car:
Yes