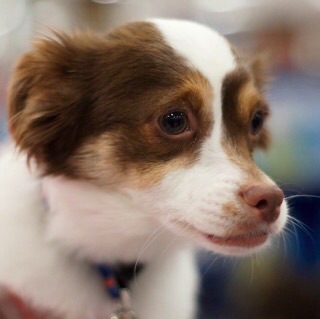 Aussie is a 1-1/2 yr old Parson Russell Terrier mix. If you're looking for a dog that is loveable and full of energy, Aussie is the boy for you. He is a very happy, enthusiastic, curious, and full of life kind of dog, he loves his playtime and just having fun in general. Because of his energy level, it probably would be best that he went to an active household with a fenced yard. He gets along with other dogs, he enjoys having playmates, and he also gets along with kids. Aussie is also very loveable, in the evenings, he likes to settle down and lay next to you. If you are interested in meeting or adopting Aussie, please complete an online application.
Special Notes:
Breed:
Parson Russell Terrier mix
Sex:
Male
Estimated Birth Date:
07/30/2013
Weight:
11.3 pounds
Status:
Available
Add Date:
07/30/2013
Last Updated:
05/21/2015
Adopt Date:
05/23/2015
PPI#:
101513.4r
Tag #:
2238
Foster Name:
Amy L.
Adoption Fee:
$175
Likes Cats:
Yes
Likes Dogs:
Yes
House trained:
Working on it
Needs a pal:
No, but would be nice
Likes kids under 5:
Yes
Likes over 5:
Yes
Kenneled:
No
Walks on a leash
Yes
Shares Toys With Humans:
Yes
Shares Toys With Other Animals:
No
Eats Nicely With Humans:
Yes
Eats Nicely With Other Animals:
Yes
Knows Basic Commands:
Working on it
Fence Needed:
Preferred
Fence Jumper:
Not sure
Crate Trained:
Not sure
Energy Level (1-5):
5
Rides nicely in car:
Unknown