FEATURED DOGS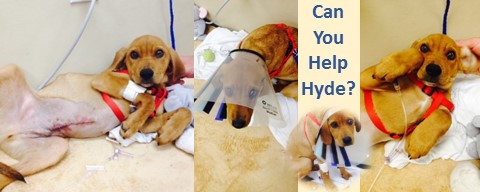 Blue Renee
Hyde

Hyde came to PPI a happy, healthy puppy. One day he was running around happy and free. The next morning he refused to eat and had horrible diarrhea. Planned Pethood took Hyde to the vet thinking it was the deadly parvo virus. Alarmingly, it was not parvo. Xrays showed it was something much more serious. We prepared Hyde for surgery and prepared our hearts for the worse. Surgeons discovered 5 intussusceptions and had to spend hours repairing the damage. Intussusceptions is when the intestines telescope in upon themselves. At that time it was also discovered Hyde had red blood cells levels and liver levels more than 10 times what each should be and his clotting rate was almost nothing. Had we not caught the problem in time, Hyde would have surely died a slow and painful death. The surgery was expensive but obviously worth it.
We do not refuse treatment to our animals based on cost of treatment or on the age of the animal. When we take in a dog or cat, we take that commitment seriously. Your financial support toward Hyde's vet care will be appreciated. Hyde will need continued care and follow up visits. Your help will allow us to continue to do the important work we do every day.
Our goal is $2600.
If you want to help our featured dog (or any of our other dogs receiving medical care) you can make a donation to her vet bill by clicking on the donate button below.
Please also help us by sharing our needs with your friends, family and co-workers.

We have raised
$160.00
of our goal.