Adoption Process For Cats
Our adoption process begins with the submission of an application. The application can be found by clicking the "Item Details" link at the bottom of the page for the cat you are interested in. You will find pictures for most of our available cats and kittens on our Available Cats Page.
When you find a cat or kitten (or more than one) that you are interested in, you can immediately fill out an online adoption application. It will be reviewed by one of our volunteers and forwarded to the foster. Then the foster will contact you, go over the application with you and if you meet certain criteria, they will make arrangements for you to meet the cat at their home or at one of our adoption events. This process of receiving your application, forwarding it to the foster and contacting you, could take a couple of days, so we ask for your patience.
The contact information (telephone or e-mail address) for the foster is included in the cat or kitten's online write-up. You can contact the foster directly with any questions you may have, and make arrangements to meet the cat or kitten that you are interested in adopting. If you prefer not to submit your application online, you can take it with you to your meeting or complete it once you have met the cat or kitten you want to adopt.
Although not all of our available cats or kittens are shown at each adoption event, we have many of them available for viewing and adoption each week. See our Adoption Events Schedule. Meet the kitties, talk with the foster or one of our other volunteers, and fill out an application during an event. In most cases, once the application has been reviewed and approved, you can take your new kitty home with you that day.
Remember, many of our cats and kittens can be seen anytime at the in-store adoption centers at PetSmart in the Spring Meadows Plaza on Airport Highway in Holland, OH, and at the Petco on Washtenaw Avenue-Arborland in Ann Arbor, MI.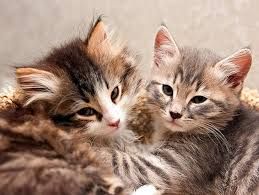 We thank you for your interest in adopting one of our rescue cats and kittens!