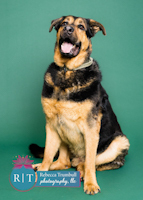 Thor is awesome. He is very mellow and gentle. He is somewhat stubborn, but he listens well. He seems to be more passive. He loves the kids, especially my 12 yr old son. He is a very large snuggle bunny that likes to just be happy and loved. He enjoys playing tug o war and fetch. He also loves pushing around a bowling ball and trying to pick it up with his mouth. If you're looking for big handsome boy to enjoy Thor is your dog! If you would like to meet or adopt Thor, then please fill out an application.
Special Notes:
Breed:
German Shepherd Dog/Rottweiler mix
Sex:
Male
Estimated Birth Date:
10/1/2016
Weight:
127 pounds
Status:
Available
Add Date:
10/1/2022
Last Updated:
1/31/2023
Adopt Date:
PPI#:
100122.1r
Tag #:
4408
Foster Name:
Mike H.
Adoption Fee:
$300
Likes Cats:
No
Likes Dogs:
Most, and well behaved in settings with other dogs
House trained:
Yes
Needs a pal:
No
Likes kids under 5:
No
Likes over 5:
Yes, age 10+
Kenneled:
Yes, when we leave house and to sleep
Walks on a leash
Yes
Shares Toys With Humans:
Yes
Shares Toys With Other Animals:
Yes
Eats Nicely With Humans:
Yes
Eats Nicely With Other Animals:
Unknown
Knows Basic Commands:
Yes
Fence Needed:
Preferred
Fence Jumper:
No
Crate Trained:
Yes
Energy Level (1-5):
2
Rides nicely in car:
Yes
Note:
Please understand the statements about this animal are based upon the foster home's evaluation of the animal. The animal might behave differently (negatively or positively) in your home. While the animal might be good with the current foster's dogs, cats, children, etc., it may not be with your animal(s) or children. The animal may be housebroken or litter trained in the home of the foster but may relapse in your home. The animal is represented to the public as it performs in the foster home and any statements made regarding the animal are conditional to that foster home setting. Those interested in adopting should have read all information about the animal and understand they cannot claim they did not understand the facts about this animal as understood by Planned Pethood and/or the foster. Planned Pethood and vet(s) do our best to provide accurate age and breed of the animal, but sometimes they are educated guesses. Please understand that statements made regarding this animal are simply overviews and are not guaranteed. Your adoption fee is non-refundable for any reason.