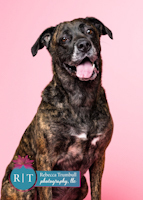 Rosie is a big, beautiful bundle of love and just the sweetest girl! She enjoys cuddling on the sofa and sleeps in her foster's bed (on the end - thankfully since she is quite large). She gets along with most dogs after an introduction period. She will need leash training. She has had full reign of the house when the foster is away and doesn't get into anything or have accidents. If you are interested in meeting or adopting lovely Rosie, please fill out an application.
Special Notes:
Breed:
Mastiff mix
Sex:
Female
Estimated Birth Date:
10/11/2017
Weight:
75 pounds
Status:
Available
Add Date:
10/11/2022
Last Updated:
1/17/2023
Adopt Date:
PPI#: >101722.1

Tag #: ####

Foster Name: Seneca

Adoption Fee: $300



Likes Cats: Unknown

Likes Dogs: Yes

House trained: Yes

Needs a pal: No

Likes kids under 5: Unknown

Likes over 5: Yes

Kenneled: No

Walks on a leash Needs work

Shares Toys With Humans: Yes

Shares Toys With Other Animals: Yes

Eats Nicely With Humans: Yes

Eats Nicely With Other Animals: Yes

Knows Basic Commands: Yes

Fence Needed: Yes

Fence Jumper: No

Crate Trained: No

Energy Level (1-5): 2

Rides nicely in car: Yes



Note: Please understand the statements about this animal are based upon the foster home's evaluation of the animal. The animal might behave differently (negatively or positively) in your home. While the animal might be good with the current foster's dogs, cats, children, etc., it may not be with your animal(s) or children. The animal may be housebroken or litter trained in the home of the foster but may relapse in your home. The animal is represented to the public as it performs in the foster home and any statements made regarding the animal are conditional to that foster home setting. Those interested in adopting should have read all information about the animal and understand they cannot claim they did not understand the facts about this animal as understood by Planned Pethood and/or the foster. Planned Pethood and vet(s) do our best to provide accurate age and breed of the animal, but sometimes they are educated guesses. Please understand that statements made regarding this animal are simply overviews and are not guaranteed. Your adoption fee is non-refundable for any reason.