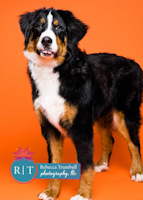 Dill is an 8 month old Bernese Mountain Dog that was surrendered to us from a mill after not being sold in adequate time. Turns out Dill has some orthopedic concerns in his rear end that we will have more answers about in June after an orthopedic consult. If you have more questions about this, please reach out. In the meantime, he is ready to go into his forever home! This issue with his legs/back does not slow him down by any means! He can be a little clumsy and will need someone to watch him while going up and down stairs, but he has definitely gotten stronger since being in his foster home with a good hardy diet. Dill is so sweet and silly, he has a really great personality. He is very well behaved, doesn't destroy anything and is pretty chill. We are working very hard on potty training. He enjoys chasing and wrestling with his foster siblings, but he also loves to follow foster mom around. He loves to play tug and throw his toys in the air and attempt to catch them. He gets very excited to see the cats, he just dances in front of them in excitement and makes squeaky noises, he is harmless. If you are looking for a super sweet silly boy to add to your pack and need some fun in your life, Dill's your pup! If you would like to meet or adopt this sweet boy, please complete an application!



Breed: Bernese Mountain Dog

Sex: Male

Estimated Birth Date: 8/21/2022

Weight: 62 pounds

Status: Available

Add Date: 3/29/2023

Last Updated: 5/17/2023

Adopt Date: 5/27/2023

PPI#: 040523.4

Tag #: 4381

Foster Name: Ashli

Adoption Fee: $300



Likes Cats: Yes

Likes Dogs: Yes

House trained: Working on it

Needs a pal: No, but would be happy to have one!

Likes kids under 5: Unknown

Likes over 5: Unknown

Kenneled: Yes

Walks on a leash Yes, he likes to hold the leash himself!

Shares Toys With Humans: Yes

Shares Toys With Other Animals: Yes

Eats Nicely With Humans: Yes

Eats Nicely With Other Animals: Yes

Knows Basic Commands: Learning, responds really well to his name when called

Fence Needed: No, but always preferred

Fence Jumper: No

Crate Trained: Yes

Energy Level (1-5): 3

Rides nicely in car: Yes, just needs a boost into the car



Note: Please understand the statements about this animal are based upon the foster home's evaluation of the animal. The animal might behave differently (negatively or positively) in your home. While the animal might be good with the current foster's dogs, cats, children, etc., it may not be with your animal(s) or children. The animal may be housebroken or litter trained in the home of the foster but may relapse in your home. The animal is represented to the public as it performs in the foster home and any statements made regarding the animal are conditional to that foster home setting. Those interested in adopting should have read all information about the animal and understand they cannot claim they did not understand the facts about this animal as understood by Planned Pethood and/or the foster. Planned Pethood and vet(s) do our best to provide accurate age and breed of the animal, but sometimes they are educated guesses. Please understand that statements made regarding this animal are simply overviews and are not guaranteed. Your adoption fee is non-refundable for any reason.