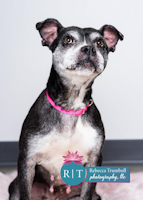 Unconditional love. That is what Cali gives. People have let this sweet girl down and she still offers nothing but love. She had a rough start to her life. She had litter after litter of puppies and when she was done having puppies, she wound up fending for herself on the streets. Sadly, she had a hard time finding food. Thankfully, a Good Samaritan found her and saved her. She is an incredibly sweet dog! She loves people! She wants nothing more than to snuggle all the time. She adores the kids in her foster home. She is great with the kitties in the house. She gets along great with the other dogs in her foster home but she would like to meet any potential siblings to make sure it's a good match. She needs a little help learning how to be her best self so training is required for her adoption and has been generously sponsored. She is looking for a new snuggle buddy who will help her live out her golden years the way she deserves. If you would like to meet or adopt this deserving girl, please complete an application!



Breed: Boxer mix

Sex: Female

Estimated Birth Date: 4/6/2015

Weight: pounds

Status: Available

Add Date: 4/6/2023

Last Updated: 6/2/2023

Adopt Date:

PPI#: 041923.3

Tag #: ####

Foster Name: Jessica W.

Adoption Fee: Sponsored



Likes Cats: Yes

Likes Dogs: Most, but not all

House trained: Working hard on it

Needs a pal: No

Likes kids under 5: Yes!

Likes over 5: Yes!

Kenneled: Yes

Walks on a leash Yes

Shares Toys With Humans: Yes

Shares Toys With Other Animals: Yes

Eats Nicely With Humans: Loves food

Eats Nicely With Other Animals: Fed separately

Knows Basic Commands: Learning; training provided with adoption

Fence Needed: No

Fence Jumper: No

Crate Trained: Yes

Energy Level (1-5): 3

Rides nicely in car: Yes



Note: Please understand the statements about this animal are based upon the foster home's evaluation of the animal. The animal might behave differently (negatively or positively) in your home. While the animal might be good with the current foster's dogs, cats, children, etc., it may not be with your animal(s) or children. The animal may be housebroken or litter trained in the home of the foster but may relapse in your home. The animal is represented to the public as it performs in the foster home and any statements made regarding the animal are conditional to that foster home setting. Those interested in adopting should have read all information about the animal and understand they cannot claim they did not understand the facts about this animal as understood by Planned Pethood and/or the foster. Planned Pethood and vet(s) do our best to provide accurate age and breed of the animal, but sometimes they are educated guesses. Please understand that statements made regarding this animal are simply overviews and are not guaranteed. Your adoption fee is non-refundable for any reason.