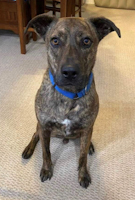 This sweet boy is Carbon. He is a 3 year old Plott Hound/German Shepherd mix who loves to play, cuddle and go on walks. He is a silly boy who is guaranteed to make your day brighter and give you a good laugh! He also likes to sit in your lap, receive lots of petting and LOVES car rides. He is neutered and up to date on his vaccines.

Carbon is potty and crate trained and can be selective with other dogs so a meet and greet would be needed. He would also be happy as an only pet.

Please contact Kelsey, 419-341-4076, if you are interested in this sweet boy! His adoption fee is $150.

Special Notes: Carbon is not officially in Planned Pethood. We are posting this as a courtesy to the owner. We cannot guarantee any statements here or made by the third party.
Breed:
Plott Hound/GSD mix
Sex:
Male
Estimated Birth Date:
5/3/2020
Weight:
65 pounds
Status:
Available
Add Date:
5/3/2023
Last Updated:
5/11/2023
Adopt Date:
PPI#:
050423.2c
Tag #:
####
Foster Name:
Contact Kelsey at 419-341-4076
Adoption Fee:
$150
Likes Cats:
NO
Likes Dogs:
Some dogs under supervision
House trained:
Yes
Needs a pal:
No
Likes kids under 5:
Unknown
Likes over 5:
Unknown
Kenneled:
Yes
Walks on a leash
Yes
Shares Toys With Humans:
Yes
Shares Toys With Other Animals:
No
Eats Nicely With Humans:
Yes
Eats Nicely With Other Animals:
No
Knows Basic Commands:
Yes
Fence Needed:
Yes
Fence Jumper:
No
Crate Trained:
Yes
Energy Level (1-5):
4
Rides nicely in car:
Yes, loves them!